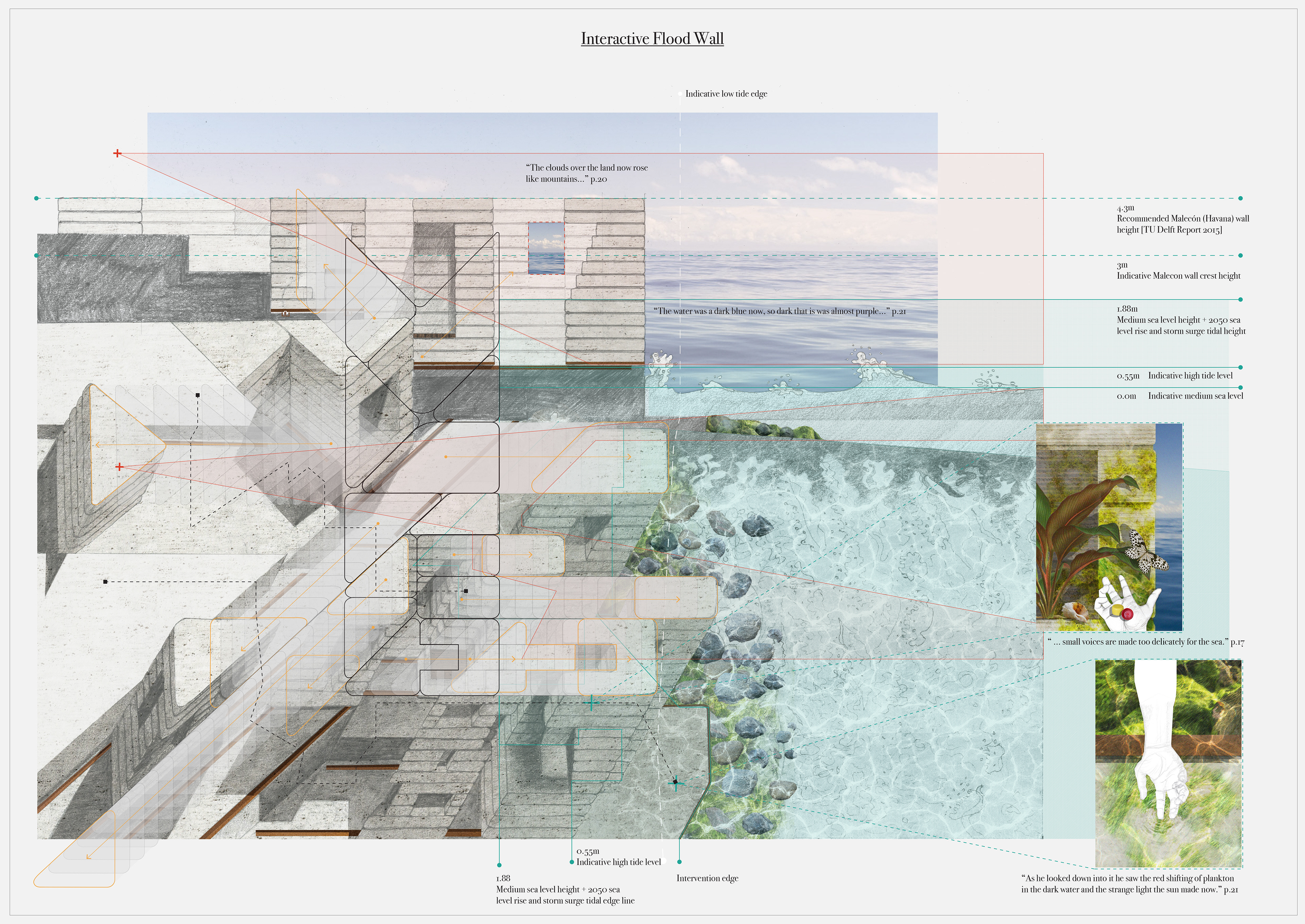 Masters Thesis in Political Architecture : Critical Sustainability from KADK, Copenhagen )
Hemingbé is a speculative research project investigating how architecture might hack the existing frameworks of tourism that act within and upon Cojimar, a fishing town east of Old Havana. Cojimar is famous with tourists for its association to Ernest Hemingway. 
The resilience of Hemingways narrative is an important component in Cojimar's future, not just the future of the towns tourism economy but also the future of its community. As tropical storms continue to threaten the towns historical buildings, the physical memory of Hemingway in Cuba, and the spaces which commemorate him are invulnerable. This is because the restoration of tourist attractions are prioritised. Hemingway has endless tourism potential in Cuba and as a general rule, where there is tourism there is greater care taken to the quality and condition of an area.
Hemingbé combines the words Ernest Hemingway - Cojimar Bay - and an e-acute taken from the end of the cliché - together in one word. Hemingbay suggests to an outsider that Cojimar is a theme park of Hemingway related attractions. However, adding the e-acute from cliché Hemingbé, then, exposes to the tourist through covert means, the notion that their experience of Cojimar is not completely authentic but is in-fact a series of clichés employed to satisfy their expectations. 
The project seeks to not only speculate on alternative methods of tourist development but also facilitate an alternative tourist experience. An experience which utilises Hemingway more genuinely, breaking down the clichéd image which separate the local and tourist experience in Cojimar to reveal an existential experience which one might come across in Hemingways writing. Thus the first stage of the project utilises Hemingways literary works to formulate an architectural language, where the sea becomes the connection between the tourist and local experience. This comes in the form of an alternative Malecon proposal, that which defends the city against the threat of the sea while creating a continuous public space where both tourist and local can interact with the sea and each other.